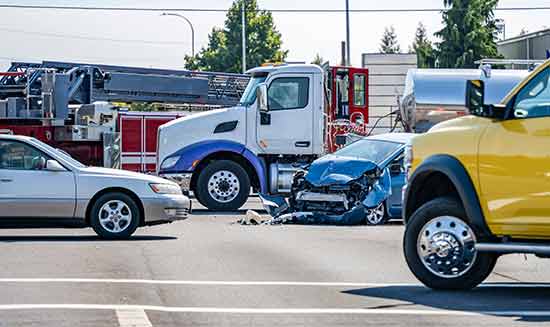 It can be scary to see a tractor trailer driving right behind you on the freeway, and catastrophic if it hits your car. Trucks can be 20-30 times heavier than a passenger car and significantly taller as well . Because of this, trucks are more likely to roll over than a passenger car and can even pull a passenger car underneath it in an accident . Accidents involving a tractor trailer can cause gruesome injuries, or even death. You may be out of work and children out of school for months while you recover. It's not uncommon to have permanent injuries as well. If you or a loved one were involved in an accident with a tractor trailer, you need an aggressive personal injury attorney who is experienced in these types of crashes on your side.
The first step in securing compensation is determining why the accident happened and who is liable. There could be several contributing factors to the accident, and these will determine who your attorney holds responsible for it. Some possibilities include:
Equipment malfunction
Driver error
Driving while under the influence
Driver with a history of unsafe driving
Improper loading or securing of cargo
Improper vehicle maintenance
Unsafe practices dictated by the trucking company or truck owner
Depending on the reason for the accident, your attorney may hold one or several individuals or companies liable for the accident, including the truck driver, the trucking company, the truck manufacturer, or the cargo shipper.
You are entitled to be made as financially whole as possible by the liable party. Your attorney will argue for you to receive compensation for your economic losses, such as: doctor's bills, hospital bills, rehabilitation costs, assistive medical devices, modifications to your home to make it accessible if you have a permanent disability, nursing care, future medical bills, prescription drug costs, lost wages, future lost wages, psychological and psychiatric care (if needed), and permanent injury and disability related costs (if you are permanently injured). You can also secure compensation for noneconomic losses, such as pain and suffering, loss of consortium, and loss of enjoyment of life. While each case is different, typically, the amount you receive for noneconomic costs is determined by a multiplier of the economic costs. The severity and permanence of your injuries will determine how large the multiplier is.
Being hit by a tractor trailer can have far larger and more complex ramifications than a typical car accident. You need experienced legal representation who will fight for you to receive every penny you deserve. Call the attorneys at Rader Law Group today. We have built our reputation on securing justice for accident victims like you.
Rader Law Group, LLC
With decades and decades combined experience, the attorneys at Rader Law Group understand the meaning of Justice. Our one and only mission is to get each client the justice he or she deserves; our team of attorneys never back down when we know our client is right.
We offer our clients the compassion and guidance they need as they work through trying times in their lives. The balance of working relentlessly for our clients combined with our caring approach has helped us achieve a fantastic record of success with our clients. We get our clients the justice they deserve.
At Rader Law Group, You matter. Your justice matters. Your Justice Starts Here. 954-913-2273.