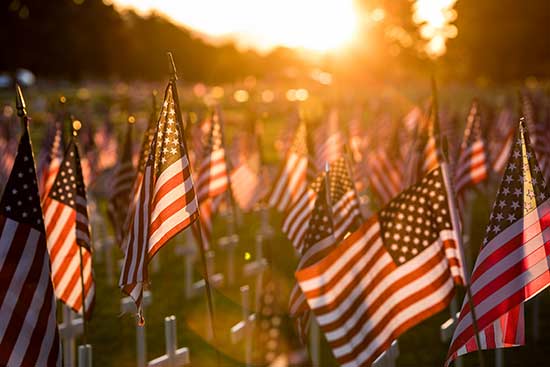 Memorial Day, the unofficial start of summer, is a time for barbeques, picnics, parades, and injuries. For most people, the long weekend is a time to reflect on those who made the ultimate sacrifice for our country and spend time with loved ones. However, every year, thousands of people are injured or killed over this celebratory weekend due to unsafe choices made by others.
The National Safety Council estimates that 450 people will die over the Memorial Day holiday weekend due to car accidents. Memorial Day weekend sees a spike in the number of people traveling by car for family visits and parties combined with an increase in the number of people consuming alcoholic beverages. The result, quite literally, is deadly. Intoxicated or impaired drivers will have their reaction times slowed significantly, their ability to perceive distances declines, they are less alert, and their judgement and coordination become impaired.
Drunk drivers destroy lives. Victims hit by a drunk driver can suffer traumatic brain injuries, spinal cord injuries, broken bones, and damaged organs. It may take months for them to be able to return to work, if they can ever do so.
Boating accidents are also a significant source of Memorial Day injuries. With more registered boats than any other state in the nation, Florida is a boater's paradise. On holiday weekends, like Memorial Day weekend, there are more boaters on the waterways, so it's especially important to stay alert and aware of your surroundings in the water.
The biggest risk associated with boating is drowning. According to the National Safe Boating Council, "drowning was the reported cause of death in four out of every five recreational boating fatalities in 2021, and 83 percent of those who drowned were not wearing life jackets. " If you are riding on a boat, you need to wear a life jacket, no matter how strong a swimmer you are. The owner and captain of the boat are responsible for ensuring that there are enough life jackets for all the passengers.
Everyone loves a barbeque, but many people don't realize that they can be dangerous. The grill should be placed on a nonflammable surface, like a stone patio, in an area without a roof or any overhanging branches. There should also be a sober adult tending to a lit barbeque at all times and ensuring that no children or pets come near it. Stepping away, even for a moment, could cause a tragedy for a child who knocks into it.
The attorneys at Rader Law Group hope you have an enjoyable and safe Memorial Day weekend!
Rader Law Group, LLC
With decades and decades combined experience, the attorneys at Rader Law Group understand the meaning of Justice. Our one and only mission is to get each client the justice he or she deserves; our team of attorneys never back down when we know our client is right.
We offer our clients the compassion and guidance they need as they work through trying times in their lives. The balance of working relentlessly for our clients combined with our caring approach has helped us achieve a fantastic record of success with our clients. We get our clients the justice they deserve.
At Rader Law Group, You matter. Your justice matters. Your Justice Starts Here. 954-913-2273.
References Used:
National Safety Council. Memorial Day 2022 Motor Vehicle Fatality Estimates – Injury Facts (nsc.org). Accessed April 10, 2023.
Safe Boating Campaign. National Safe Boating Week is May 20-26, 2023 – Safe Boating Campaign. Accessed April 10, 2023.