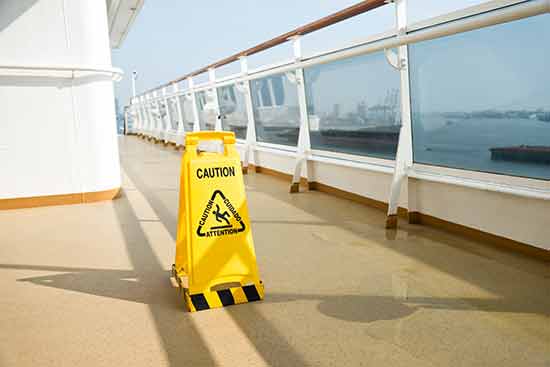 Cruising is one of the most popular ways to see the world. But what happens if the trip doesn't go as planned?
While most cruisers create lifelong positive memories, the opposite can happen as well. Every year, passengers are injured, often by slip and fall accidents, on their long-anticipated vacations. The motion of the ship combined with slippery decks or stairwells can be a dangerous mix for anyone, and especially for older passengers. If you slipped and fell on a cruise ship, in addition to a ruined vacation, you may be facing high medical bills and lost wages when you return ashore.
Cruise lines have a team of savvy lawyers that make it difficult for you to receive your rightful compensation for your injuries, but don't be deterred. By working with a personal injury attorney who is experienced in recovering justice for cruise ship passengers, you may be able to secure compensation for your injuries.
When you purchased your cruise tickets, you agreed to the cruise line's terms and conditions, which detail where you need to file a lawsuit, the timeline for filing a lawsuit, and the limits of the cruise lines liability. Many (but not all) cruise lines list the venue for filing the lawsuit as a county in Florida, often Miami-Dade or Brevard Counties. If your ticket lists Florida as the venue for the lawsuit, whether you are a Florida resident or not, you will need an attorney licensed to practice in Florida to file the lawsuit for you. In addition, the ticket also details the length of time you have to report the details of the injury to the cruise line, which in many cases is only a few months, so you need to act quickly. For these reasons, if you were seriously injured by a slip and fall on a cruise line, seek medical care, and once you return to port and are in stable condition, be sure to keep all of your paperwork for the cruise, and contact Rader Law Group.
We will start by meeting with you on the details of your accident and analyzing the fine print on your contract to determine if you have a legal case against the cruise line. In many cases, we find that the cruise line may have acted negligently and was responsible for causing a passenger's injuries. We will then work with your doctor and possibly other medical experts to quantify the dollar amount of your injuries. If you are unable to work, we determine the total amount of lost wages you have accrued as well as the future lost wages you will experience. Depending on the scope of your injuries, you may be eligible for compensation for pain and suffering as well.
Cruise lines have large legal departments to thwart passengers' attempts to recover damages incurred while cruising. You need an experienced professional on your side to jump over the hurdles they set and aggressively pursue your claim. Call Rader Law Group today for a free consultation on your case.
Rader Law Group, LLC
With decades and decades combined experience, the attorneys at Rader Law Group understand the meaning of Justice. Our one and only mission is to get each client the justice he or she deserves; our team of attorneys never back down when we know our client is right.
We offer our clients the compassion and guidance they need as they work through trying times in their lives. The balance of working relentlessly for our clients combined with our caring approach has helped us achieve a fantastic record of success with our clients. We get our clients the justice they deserve.
At Rader Law Group, You matter. Your justice matters. Your Justice Starts Here. 954-913-2273.